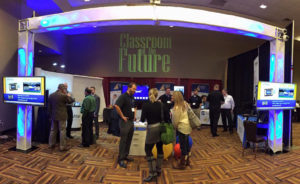 Classroom of the Future
Classroom of the Future sessions are short lessons that occur throughout the day at station clusters in the Exhibit Hall.
These classroom lessons include the opportunity to learn about and try products.
 #401. Station #1: Mass Notification (9:50am-10:20am)
Snow day? Emergency? Whatever the situation may be, with ESG, you have the ability to quickly send text messages to your staff, students, or parents with ease keeping everyone informed at a moment's notice.
#402. Station #2: Collaborative Education (12:35pm-1:05pm)
Field trips are great opportunities to learn about the world in unique and creative ways but, as we all know, the process can be a logistical nightmare. Everything from finding chaperones to organizing transportation. Learn how virtual field trips are much more affordable, convenient, and not limited to your immediate area.
#403. Station #3: School Security (2:05pm-3:35pm)
School security isn't just limited to passive video surveillance. Learn how you can be proactive with your security system, and manage the access people have to your facility.
Brought to you by: