Accommodations & Hotel Information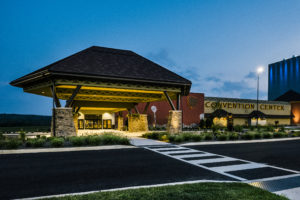 Kalahari Resort offers convenient luxuries that feature innovative waterpark attractions and high quality resort amenities. Kalahari brings "a world away" experience, with everything under one roof! Including spectacular indoor and outdoor waterparks, spas, retail, indoor theme park, and multiple dining options.
Overnight rates are as follows:
$138 for single or double
Additional room types are available at a range of discounted fees
The room block expires 11/3/23
Availability and discounted rate not guaranteed after this date.
To book a room at the Kalahari call 877.254.5466
Ask for: 2023 SLATE Technology Conference 
Book Online Here
Kalahari Overnight Deposit Policy for Individual Reservations:  One night (plus tax) at the time the reservation is made.
Kalahari Overnight Cancellation Policy:  72 hours, or more, prior to arrival to receive full refund less $25.00 processing fee.  Less than 72 hours prior to scheduled arrival forfeits entire deposit.
Per the policy at Kalahari Resorts, do not accept completed Letters of Authorization forms, Tax Exemption forms, nor Purchase Orders to be submitted to us at the hotel check-in. We have a dedicated team that approves these forms to ensure validity prior to attachment to the reservations prior to check-in. These forms should be submitted no later than 7 days in advanced to us at dellscallcenterfax@kalahariresorts.com or fax them to 608-254-6116. We highly suggest that attendees submit these forms at minimum two weeks in advanced prior to the hotel check in so our team can process them in a timely manner. Failure to follow this procedure may result in full room and tax charges to the attendees on their personal cards; since our Front Desk will not accept these forms at check-in. Questions, go to our website that will bring you to our general policy page for the entire resort, which explains our policies in full detail. (Link: https://www.kalahariresorts.com/wisconsin/help/faq/).

In order for the Kalahari provide a smoother and safer transaction for their guests and associates, the resort will be 100% cashless as of February 22, 2023. They accept credit and mobile payments (Apple/Google Pay) as well as room charges through RFID wristbands. Should you arrive at the Kalahari with only cash, they have kiosks to exchange your dollars onto a Mastercard that can be used anywhere Mastercard is accepted. The kiosks will accept $5, $10, $20, $50, and $100 bills.